Bosch Condens 5000 W 37kW Condensing "Combi" Boiler - Nat Gas
SKU:

BOZSB372A23S2414

UPC:

Weight:

48.50 KGS

Shipping:

Free Shipping
Description
Bosch Condens 5000 W 37kW Condensing "Combi" Boiler - Natural Gas
Bosch is a global market leader in high efficiency, condensing hydronic heating and water heating technology. All of our products are designed to deliver heating and hot water comfort. Our environmentally friendly Hydronic Heating range of gas condensing
boilers can help lower your gas bills, save you money, and reduce your carbon footprint, the range is available from plumbonline at the lowest possible price delivered free* to your door.
The Bosch Condens 5000W 37 kW Combination Boiler is a gas condensing boiler that is capable of providing both central heating and domestic hot water. Combining two appliances, a Bosch 'Combi' boiler uses high-efficiency condensing technology for both heating and domestic hot water, which saves you money in two ways. Another Bosch 'Combi' benefit is that it can generally save you money on installation time and costs, as well as installation materials as no additional hot water system or hot water storage cylinder will be required. All Bosch Condens 5000W boilers can be combined with easy-to-use, sophisticated controllers and thermostats, which make them even more energy efficient.
Choose the most popular way of heating around the world Hydronic heating is the predominant heating technology used around the world. Bosch are a global market leader in hydronic heating and have sold 1.2 million boilers in 2011. Besides the unparalleled comfort they provide and other benefits such as quiet operation, hydronic heating can also help to reduce the effects of allergies and asthma as airborne particles such as pollen and dust are not circulated as is the case with gas ducted
heating systems.
Bosch Hydronic Heating Boilers provide hydronic heating comfort using condensing technology to harness 'waste heat', which would normally be expelled. This unique method of operation is more than 90% energy efficient. It delivers natural warmth through underfloor heating, radiator panel heating or towel rail heating. Our range also includes a 'combi boiler', which combines central heating and hot water in the one appliance.
Condensing Technology explained
Condensing technology uses "hidden" energy that is usually expelled as hot air through the flue terminal of a non-condensing appliance. This energy gets released in the condensation process when flue gases undergo a phase change from gas to liquid.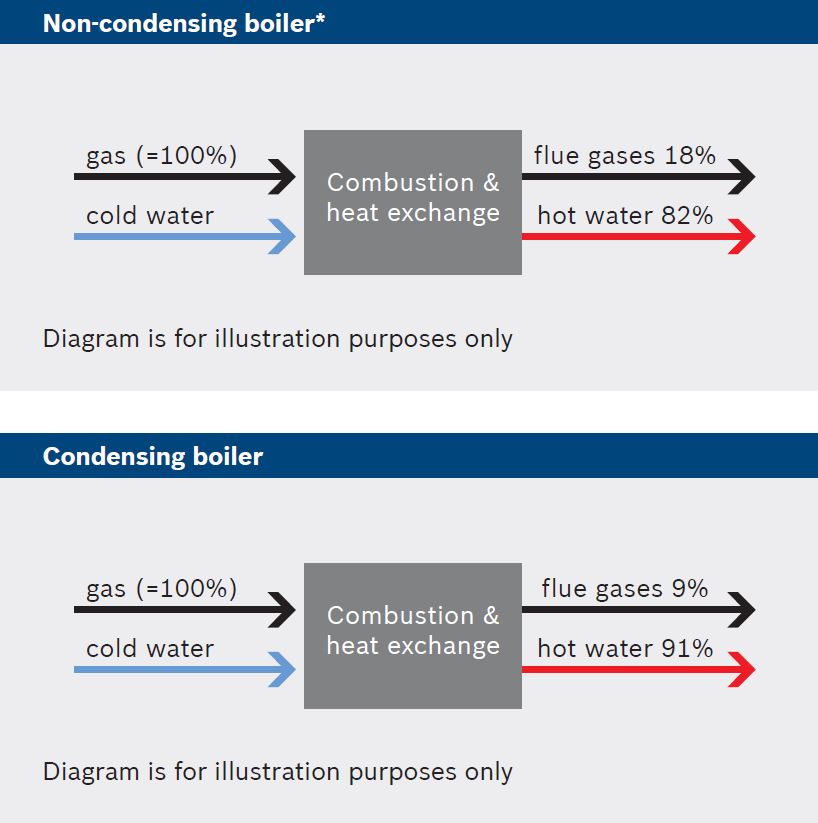 The result is a greatly reduced temperature of the flue gases leaving the appliance and an over 90% use of the energy used in the heating process+ when flue gases undergo a phase change from gas to liquid. Save 9% or more on your gas bills. Combined with our intelligent controller range, these savings can be even bigger as they help to optimise the required heat input to achieve even greater energy efficiency. Please refer to page 8 for more information on Bosch hydronic heating controllers.
+ Energy efficiency tested at 80°C
* Approx. energy efficiency rating of a non-condensing boiler @ 80°C.
The Bosch Condens 5000W System Boilers, 18 kW and 30 kW, take care of heating your home. They are an easy to install hydronic heating solution. Many of the components of the system, such as an expansion vessel, are built into the Bosch hydronic heating boiler itself, making it quick and easy to install.
Features & Benifits
Central heating output: up to 30 kW or 130 MJ
Domestic hot water output: up to 37 kW or 160 MJ
91% energy efficient – saving you money
Internal and external installation possible
Combines heating and domestic hot water modes for fuel savings in two ways
21 l/min domestic hot water flow rate @ 25°C temperature rise suitable for up to 2 bathrooms
Modulating pump – reduces electricity used by the pump by up to 30%
Quiet operation (45 dB)
Frost protection standard
Domestic Warranty
3 Years - Parts and Labour
10 Years - Heat Exchanger (part only)
Specification - Bosch Condens 5000 W 37kW condensing "Combi" boiler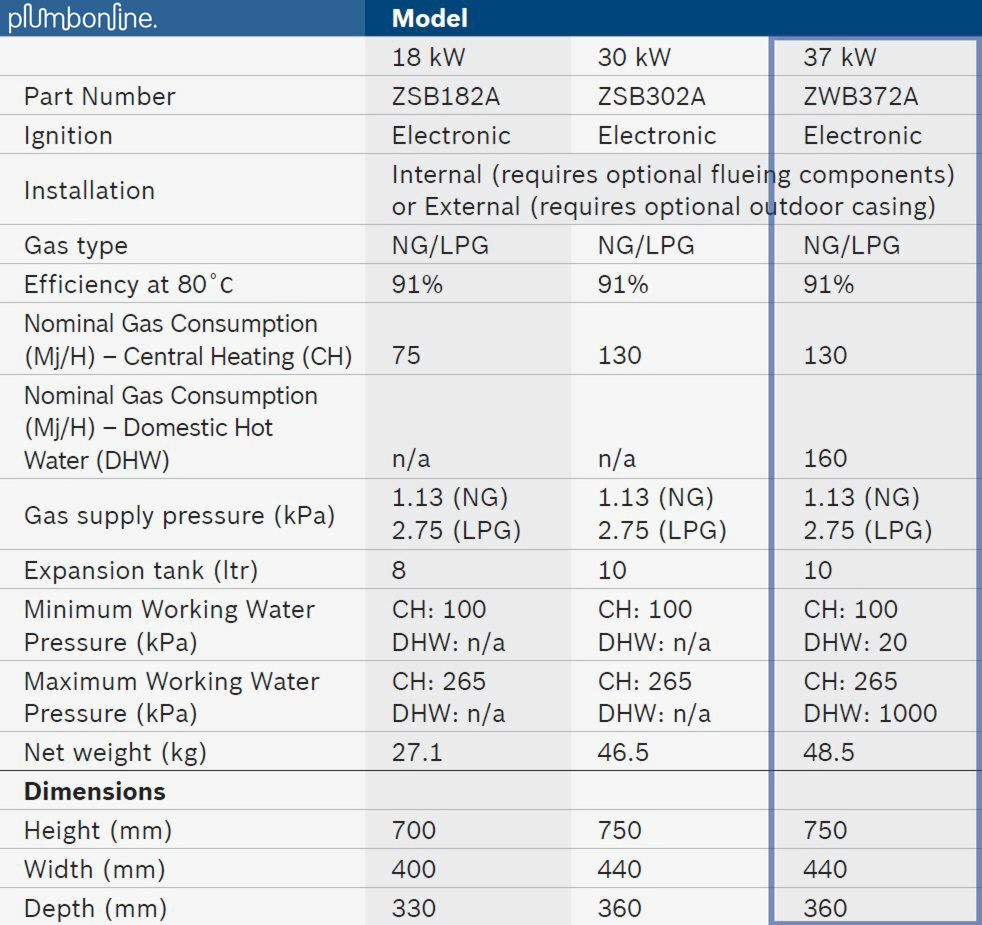 Plumbing connections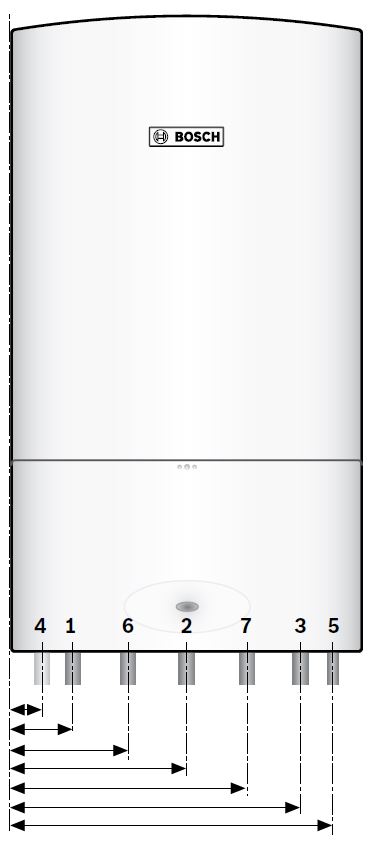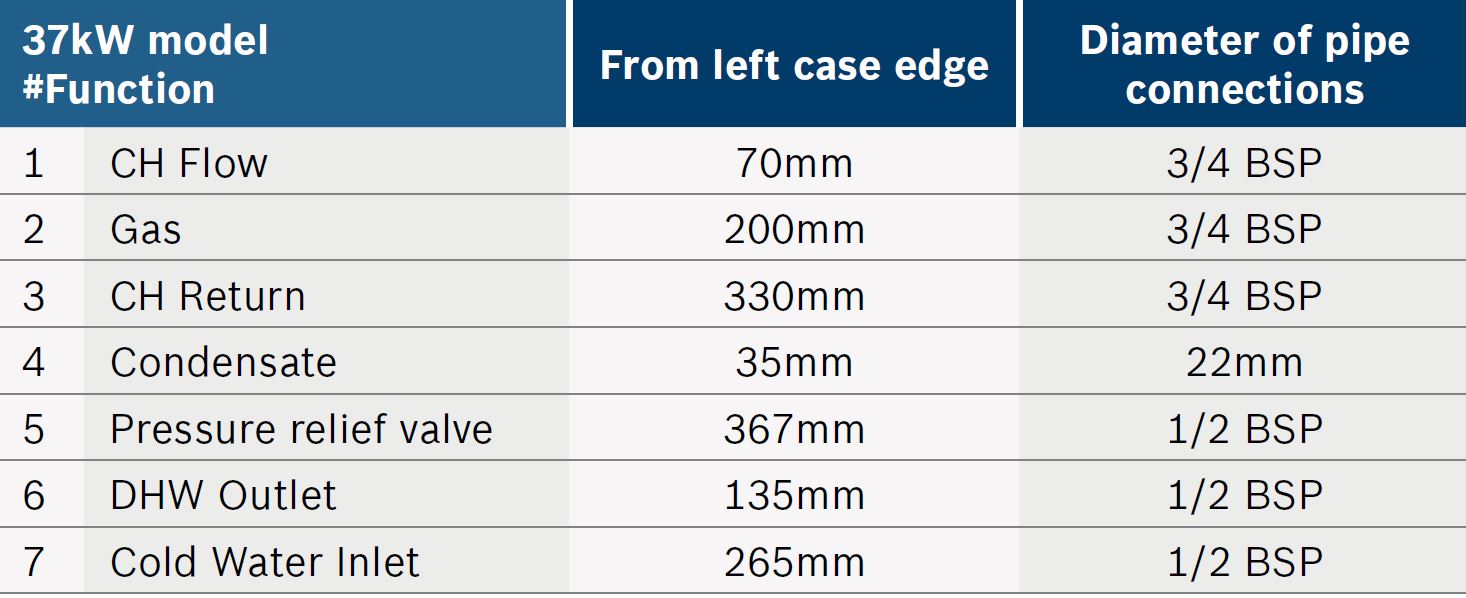 View All
Close