Delta Grade Four Water Conditioner Flange 100mm - 4"
SKU:

DWCU100G4

UPC:

Weight:

50.00 KGS

Shipping:

Free Shipping
Description
Delta Grade Four Water Conditioner Clamp On 100mm - 4"
Water Treatment Technology Australia by DELTA
Delta are technical experts in solving common water quality problems such as scale, salinity, iron and corrosion.
The Delta Diamond is developed and manufactured an innovative range of water treatment technology products, scale reduction systems and commercial water treatment systems. Our range of DELTA products are 100% Australian designed and manufactured, chemical free, require no power and are pollution and maintenance free.
This revolutionary Australian water treatment product will be your new best friend by keeping your household appliances in mint condition and your shower recess sparkling clean. Plus, your garden will be lusher than ever!
The DIAMOND is a water treatment technology designed specifically to combat the effects of harsh town water on your home and garden.
It will:
Stop the streaks on your shower screen
Prevent scale buildup on your appliances including kettles, dishwashers, washing machines and coffee machines
Improve the performance of your soaps and detergents
Stop your shower head from getting blocked by calcium and scale buildup
We guarantee our 100% Australian designed and manufactured products
Testimonials
"We are very happy with the performance our DIAMOND… starting from a very soft-feeling water that lathers up a lot easier, to dishes that come out of the dishwasher so much cleaner with no smears or residue left on them. The water is a lot more palatable and we enjoy drinking it a lot more. Thank you for this product! I think every household would benefit from a DIAMOND."
Ian Perkins, Dubbo, NSW
"I have cleaned the hot water urn of any scale before I installed my DIAMOND, and have had no further build-up since. It's the same with the kettle. Also, my husband is no longer complaining about itchy skin after his shower. I also notice that the taps have more pressure. Now I know it is possible to have better water thanks to a DIAMOND."
Helen Delphine, Quandialla, NSW
There are several models of the DELTA Small Pipes, Clamp-One Water Treatment unit for pipes ranging in size from 12 millimetres to 50 millimetres. Each model is designed to achieve a desired water treatment solution for your specific problem caused by salinity, high mineral content, hardness or iron. The DELTA Small Pipes units are Clamp-On – we manufacture them in two halves to fit over your existing small pipe. They work on pipes of non-magnetic material. It's so easy!
With the DELTA Small Pipes Clamp-On Water Treatment range, simply place the two halves over the pipe and bolt together.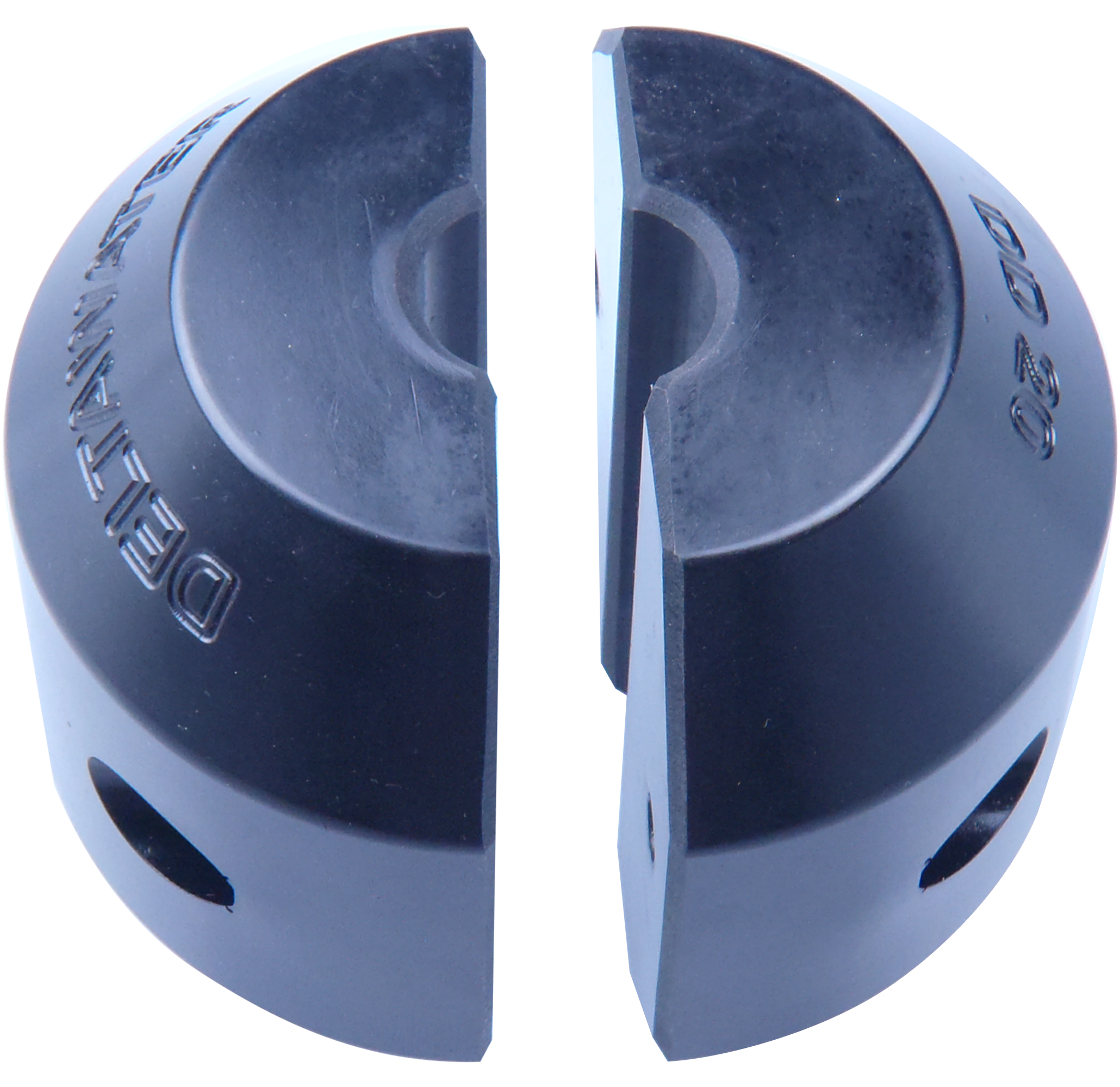 We have created our products to meet a diverse range of applications from single point domestic systems through to complex commercial water treatment system.
Our Conditions come in 3 grades which relate to their strength. The table below will give you a guide as to the model you will require, if you need assistance please email us [email protected] the following information:
Current water analysis report (we can assist with this if you do not have it)
What sort of water (ie bore or dam)
What will you be using it for (eg garden, stock, type of crop, house, drinking)
What sort of problems have you had with the water
Delta Water also have specialist models for Boreholes, Jet Pumps, Swimming Pools and Airconditioning Units. If you require sizing greater than 300mm then please contact us for pricing
| | | |
| --- | --- | --- |
| Grade | Hardness | Salinity |
| Grade 1 | 0 to 170 mg/l | up to 900 uS/cm |
| Grade 2 | 170 to 300 mg/l | 900 to 2500 uS/cm |
| Grade 3 | 300 to 600 mg/l | 2500 to 4000 uS/cm |
| Grade 4 | 600 mg/l + | 4000 to 7000 uS/cm |
Please call 1300 428 999 and ask to speak to our Water Treatment Expert
View All
Close